You know the question. It starts out as an enthusiastic question we receive as youngsters and each new birthday makes us feel a year more significant and a year closer to adulthood. Exciting things happen like starting school (at 5 you don't know you're going to hate it in a few years), entering double digits, becoming a teen, getting your driver's license, becoming an "adult" (at term we use loosely at the age of 18), and turning 21 (the legal age to drink in California).
At about the age 30, their tends to be a twinge of humor in the question... but I think for the most part one is feeling pretty mature and confident at this point so the question is met with a laugh and rolls off.
Then there's 40, when the question is presented drenched in sarcasm and responded to likewise being as the next big milestone is menopause. But I'll tell you, this year, as I continue to creep forward away from 40 into the future, the question may be a joke... but my answer this year is, "Yeah, yeah I do." Because apparently for me, it means suffering from slight pressure induced "black-outs" on roller coasters, really
(really)
raging PMS, and knitting entire lace scarves on the wrong size needles because the 8 looked like a 6... every time I checked.
But here it is...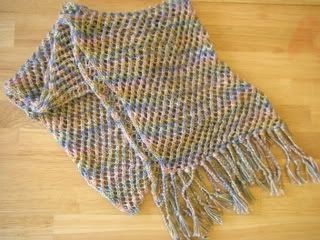 Montego Bay Scarf
by Amy Singer
Handmaiden Sea Silk - 1 Skein
Size 6 (because I can't read) Knit Picks Options needles
As you know I had a love/hate relationship with this scarf. It was an easy repetitive pattern which I tend to enjoy only if I can read along while I knit but I couldn't with this because I had to constantly watch my K2togs with the fine Sea Silk. It also took forever, but it surely would've gone faster on the recommended size 8 needles.
That said, I love the finished scarf. I also think it would be an excellent knit for a beginning knitter who wants to knit something lovely that they will continue to enjoy once their skills expand past garter stitch.
Upon completion, I finally managed to pull myself out of my knitter's block and cast on for a new top using a pattern and yarn (drum roll please) from my STASH... although I will admit to selecting a different pattern out of the Katia No. 48 pattern book than I originally intended when I made the purchase over a year ago because, well, something had to be new.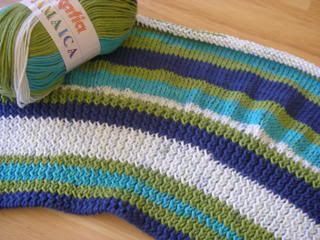 I'm using Katia Jamaica in color4010 to make a boat neck style top. For cotton it's a pleasure to knit with and, of course, I love the color changes. It called for a tubular cast-on with a slightly different style of ribbing which I really enjoyed. If you're not familiar with tubular cast-ons, you basically use scrap yarn to cast-on half the necessary stitches. Then after working a few rows, you begin to pick up the stitches from the first row in between each stitch in the row you're knitting thereby doubling your stitches and setting it up for ribbing. It gives the ribbing a nice, firm finished edge. I snapped a picture about halfway through picking up the blue stitches from the scrap yarn to give you an idea of the process. Very cool. (And yes I have double checked both needles size and gauge.)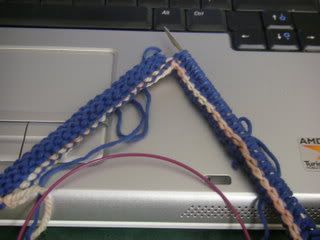 And finally, Donna... you are so sweet to check on me in my brief absence. I've just been busy being crabby and tired. It's not the age that bothers me nearly as much as the side effects.