I could've more appropriately titled this post "The One in Which I Blather on in Hopeless Inner Angst over the Supposedly Relaxing, Sanity-Inducing Hobby of Knitting", but I didn't think it would fit. Or look interesting. You might've run... but who can resist an earnest plea for help? And who, tell me, doesn't like giving advice?
So, based upon my heightened awareness of the fact that I will never be able to "knit it all" (again... I hate that), combined with the impending start of a new school year, I am trying to take control of my WIPs and reconsider how I really want to spend my spare knitting time (which should drastically decrease... "should" mind you). This whole concept has somehow put me into a sort of knitter's paralysis.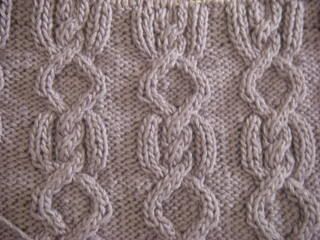 I'm really enjoying socks (well at least the first ones)... I love the variety of yarns and patterns, and the portability. I would also like to have one article of clothing in the works... and right about now, I need something exciting as I've been totally uninspired by my current WIPs for some time. Maris is simply too boring (K3P1 endlessly) for a simple white cardigan. And Peek-a-Boo, well, it's just not fun (8 sections of cable repeats on every row with cotton yarn does not excite me). I thought it would be worth the effort but I'm not feeling the love, ya know? Either way, they both will take way too long to knit to hold my attention right now.
I've really been wanting to knit Tuscany from "No Sheep for You" since I first saw it... but it doesn't seem "practical"... even though I think it would be terribly fun to knit. I could use the lovely purple Svale for it instead of Peek-a-Boo... I think.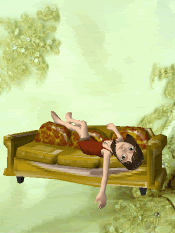 No, maybe I need a quick, satisfying tank or short sleeve pattern... knit in the round, size 6-8 needles... yet interesting. Nothing too fitted. Let's see, I have tons of cotton including Rowan Calmer, Dale Svale, 2nd Time Cotton, Katia Jamaica, Pachuko, Brown Fleece, etc.
Ideas???
Because until somebody comes to my rescue this is me.
Oh, and regarding my not so brilliant sock swap idea, you're all probably right... even if you had the 1st sock in hand to match, gauge would still be tough.