Oui, oui... Look at me!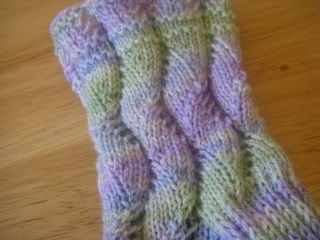 Admire my lovely "Waving Lace" and my delicate colors. My pastel blues, greens, and lavenders are perfect for Spring (not that they seem to have much in the way of seasons here where I have been cast on).
Just wait until you see me on my knitter's foot. Ooooh... Just lovely I am. I just need to wait for my mate.
(Gasp) What is that? I recognize the needle... it's the size 0 circular which so lovingly guided my shiny strands into such perfect stitches. My knitter surely needs that to create my mate! Blech! Look at that dull, blotchy yarn! Surely no match for my beauty! What can she be thinking?
Oh, I get it... she's trying one of those ghastly toe-up socks. I see she's turned the heel. Hmmm... it doesn't look too bad. Hopefully she'll grow tired of this soon and free that cute little size 0 from its misery.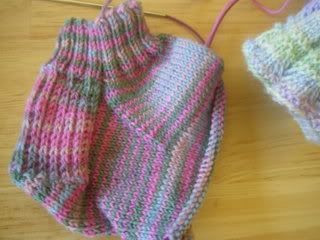 Hmph... then there's this sassy little number. I see her working on it while she reads. The colors are a bit bold and brassy for my taste but my knitter seems amused by them. Oh well, I can see she's almost done with her book, and that little sock seems to fly along pretty quick so I'll try to be forgiving of her short spells of neglect... then I should have her complete attention again.

Wait, why has she pulled all of those out??!?