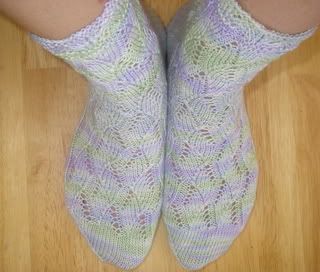 Waving Lace Socks by Evelyn A. Clark
Favorite Socks
Seacoast Handpainted Merino/Tencel in "Fresh Air"
Knit Picks 32" Size 0 circulars - Magic Loop
I really enjoyed both the pattern and the yarn. The pattern was interesting, yet easy to memorize so I could carry them around without constantly needing the pattern. The yarn is a nice light weight for summer knitting and has a beautiful sheen.
I'm loving this book and plan to cast-on for another pattern right away.