Only a little knitting recently... but how much better is this?!?!?
My dear friend Keri and her hubby were blessed with the arrival of an 11 lb (!) baby boy this weekend!
And she was ready for him... with a sweet hat she'd made from some sock yarn and the outfit below. The bolero is from
One Skein
and knit with Blue Sky Organic Cotton. The pants are from
Last Minute Knitted Gifts
. She cleverly used some simple Sugar & Cream Cotton so they only cost a couple of dollars and a couple of hours to make!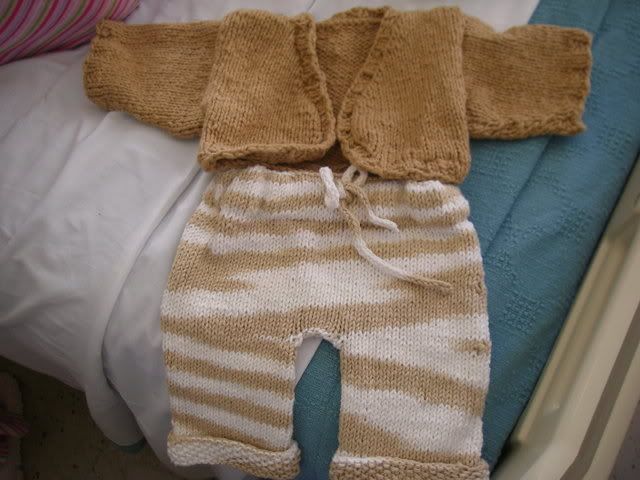 I did manage to get going on my No Sweat Socks from
No Sheep For You
at yesterday's basketball tournament. I'm using the recommended K1C2 Wick on 3 mm needles. They're quick and easy but I'm not sure about the results yet. The gauge is quite tight for this yarn and the result is on the thick side... but I'm not ready to give up. I think the end result will be great. We'll see.
I've actually been pretty faithful to Bonita lately... but I did add some diamond rounds to my
Diamond Lace Socks
this afternoon. This pattern is way addicting!