I'm supposed to go there... soon. (It might be helpful to know that I do not travel well. At all.) I've known about the trip for some time but the people who love me and are taking me have recently felt it necessary to awaken me from my blissful state of Denial with mention of passports.
Passports... I know we need them. I've known all along we would need them. I also remember making it very clear to my loving DH & mom that if they were going to drag, er I mean take me on this trip, they would need to handle all of the details. All of them. Because I would be in Denial until the actual week of the trip at which time I would snap to life in a major swirl of panic and packing.
Well, this weekend, they said it... Passports. Both of them, at different times, looked at me and said it.
Taking a deep breath (lots of them actually) I began to look into it and quickly found that we are now in the need-to-get-it-expedited time frame which is going to require even more effort. Are they really waiting for me to do this? Don't they know better? Do they know that I've barely slept since I typed "passport" into my search engine Sunday night? (Well, I guess, now they probably do.)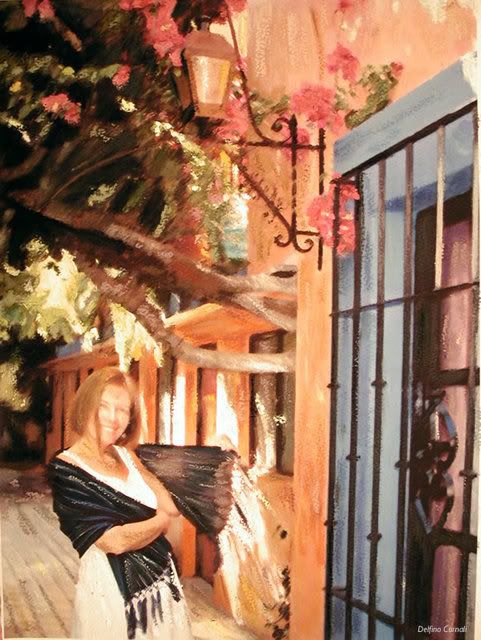 So as I lay awake churning with anxiety, desperately seeking for a way to deal with all this... some way back to Denial... (did I mention I don't travel well)... it occurs to me...
I need to knit vacation wear for Mexico!
A cute strappy tank... that's what I need! The kind I'll never wear! I was even about to order yarn this morning when I chose to make a quick escape to the LYS where
Wendy
was good enough to offer some words of wisdom on the particular tank I was considering and saggy you-knows. This was before she proceeded into a series of tales of her unfortunate adventures in Mexico... which, while not encouraging, did make me laugh. A lot. (She really is great... and yes I feel very lucky to get to hear her great tales across the LYS table.)
Besides, I realize, what I really need is a shrug. No, wait... a shawl! Yes, one to keep the evening chill off. One that will fly off my needles in the next few weeks. (Doesn't this gal look happy in Mexico... in her shawl? See?)
And really, who has time to deal with passports when their busy with vacation knitting?