I realized this morning as I was sitting in a doctor's waiting room in my sweats, surrounded by more professional looking types, that there is no way to look professional or intellectual (sweats aside) while knitting the toe of a sock.
I know this shouldn't matter to me... and deep down inside, I don't want to give a hoot what anyone else is thinking. But I have always been considered more of a serious, intellectual type. Now I don't want you to confuse this term "intellectual" with intelligence or smarts, think more along the lines of, well, boring. I'm much more likely to discuss politics, religion or the fall of the Roman Empire than the niceties of life like weather, how to prune rose bushes, or where to get the best deal on linens... mainly because I not only don't know, but don't care. Which would really make the only distinction between what I do and don't discuss my level of interest... not my level of knowledge.
I realize that to a non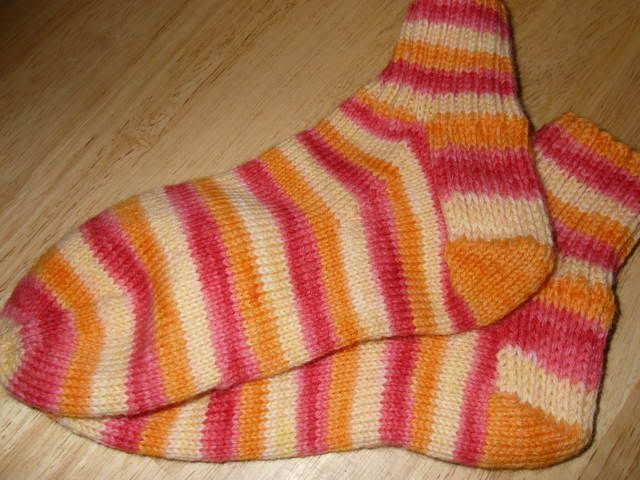 -knitter, the thought of knitting a sock is pretty insane. Heck, I thought it was insane my whole first year of knitting... until I started buying sock yarn and wearing colorful handknit socks (and buying more sock yarn). Then I got it. But I want to not care that those around me think I'm weird. People thinking I'm a bit nuts I can deal with... they pretty much figure that out when they hear I have 5 boys... but there's a big difference between being a bit nuts and doing something that others consider weird.
Another observation... non-knitters really don't get the shawl/shawlette thing at all. Not at all. I know because of the blank stares I get when somebody asks me about Clementine. "That's nice... what are you making?" Me, stammering and stuttering, as I quickly realize there is no easy or acceptable answer: "Well it's a little shawl... a shawlette... like a shoulder wrap." And being one who is prone to stammer on, I'll add: "Kind of li
ke a wide scarf... when I finish and block it, it will stretch and flatten out and be very lacy and pretty and I can wear it with a dress or a tank and it'll be great and keep my shoulders warm... and... and... it's Alpaca and Silk... yes, silk!" If I'm lucky, at some point the blank face changes shape enough to say "Oh."
"Oh" is right. I need to hang out with more knitters. But truth be told... I have much more interest in
knitting
a shawlette than actually wearing one and I'm aware that the whole shawl thingy is an area of much debate among knitters themselves so I guess hoping for understanding in the outside world is a bit unrealistic.
Anyway, all the baseball and doctor visits have yielded one finished Jaywalker (modelled with style by my pal Andee) and a completed pair of summery socks from
Kaity's Self-Striping yarn
. Also, I found an LYS with a great button selection which has motivated me to finish Flair asap as well. Yes, I'm needing some closure.
BTW - I've been knitting my socks with the
magic loop
method which I absolutely love. No gaps, no dropped/lost needles, and I can try them on whenever. Very fun.