As predicted, here is my impulsive and unnecessary yarn purchase from yesterday...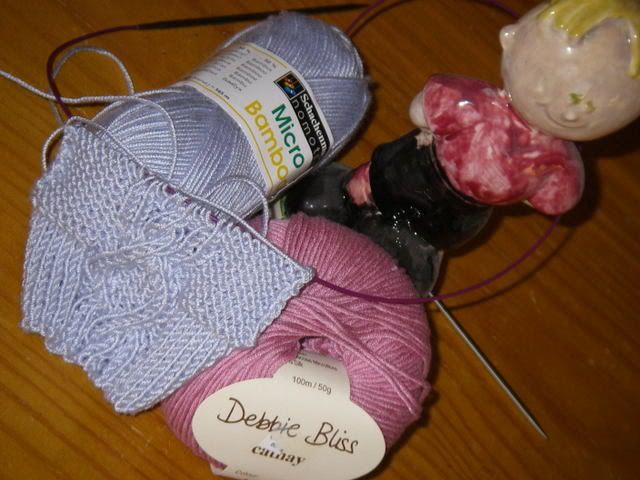 Not too bad, eh? I got the Cathay to swatch for a shawl, specifically Tuscany from No Sheep For You and I think it would work. It's soft with a nice drape but I do want another color... olive I think. The Micro Bamboo was just because it was new... and in the middle of the table... and soft... and cheap... and totally unnecessary.

When I was cleaning out my stash, I came across a dozen balls of GGH Samoa that I had purchased from Supercrafty at one point.
Anyway, I thought I'd give it a go for IK's Cable Down Raglan which I've been drooling over for a while now. It's very much like Karabella Aurora 8 in gauge and weight except that it's a nice, squishy cotton blend which might make the sweater more weather appropriate... plus it was in my s-t-a-s-h!! I did a gauge swatch to check for gauge and popping cables and I think it will work. (As you can see, I clearly have moderate patience at best for knitting up swatches)

Next thing I knew, the Micro Bamboo above swatched nicely for a sweater I've been planning to knit. But then after the praises for Dale of Norway's Svale (the yarn the pattern calls for) over at Knit & Tonic, I figured I should grab a ball of Svale for swatching to see what I might be missing which led to impulsive and (arguably) unnecessary purchase #2...
Yeah, I know, It's more than I need for a swatch... But, after feeling it knit up in the store I was sold... or, I guess, it was sold. It's intended for "Peek-a-Boo" from
Inspired Cable Knits
.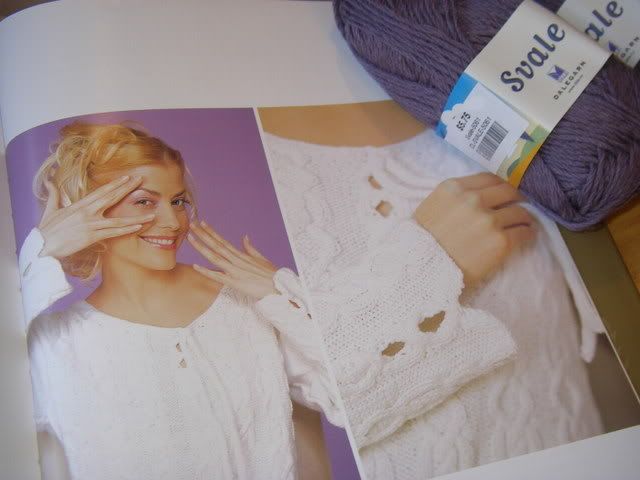 The K1C2 Wick is for a sock pattern from No Sheep For You. (Come on, it was in my favorite blues and greens. How could I resist?)
Disclaimer: All statements on this blog are representative of intentions only and in no way represent a commitment of follow-through. In case of failure to produce, blogger requests that you recognize her cyber embarrassment as sufficient consequence and resist all urges to ridicule her in future comments.