I went to the LYS today to pick up some size 1 dpns... just needles. Yeah, right. Actually, I've had many successful no-purchase trips to yarn shops in recent months (really!), I just don't blog about those. I mean how boring would that be... "I went to the LYS today and bought nothing." It's certainly not worth remembering or writing about... and surely no one would want to read about it either.
But today, right next to the needles, there was a rack of hand-knit sweaters and one in particular felt so nice. Very lightweight and summery for a sweater. Turns out it was knit of the oh-so-affordable Tahki Cotton Classic... and... they had a new pattern book on the table. Uh Oh.
It had several cute patterns...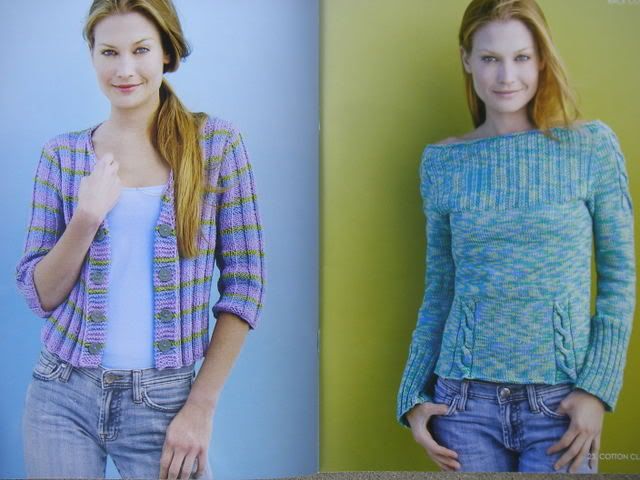 I think the one on the left would be a great summer cardigan. I'm going to try it with some 2nd Time Cotton I have in my stash. My friend
Julie
is making a sweater for her daughter out of it right now and loves it. (You can see better pictures of these sweaters
here
.)
But here was the real catch...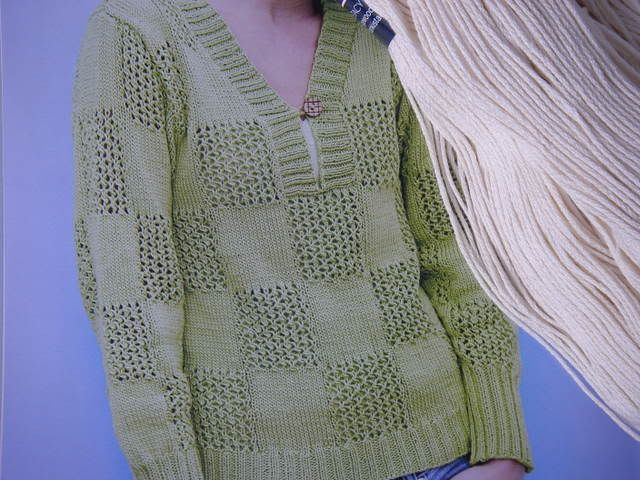 Knit with 3/4 length sleeves, this is a way more practical option for me than a shawl... and in a neutral color will be a perfect match for any of my Old Navy t-shirts.
Ugh... temptation... what should I do? I turned to the other gals at the LYS for guidance. I explained that as much as I loved this sweater, I really,
really
didn't need another project or more yarn. Blank stares... "So? What does that have to do with it?" I love knitters.