maybe someday soon I will. But at least I do have some actual knitting content to share.
My day started with another trip to Urgent Care to get an x-ray on my 4 yo's swollen foot which he injured playing at his friend's house yesterday while big brother was getting a cast. Fortunately it turned out to be only a sprain and he left with his wee foot swaddled up in an ace bandage. This was followed by a rush to a dental appt. for another brother and then Park Day at the local park of allergy doom. In knitting terms... I am now officially 1/3 of the way done with Clementine.
When I finally sat down in my allergy induced fog after getting home from the park and delivering 2 boys to the baseball fields, I had the urge to dip into my basket o'plenty and start something new. So Peek-A-Boo from Inspired Cable Knits has begun.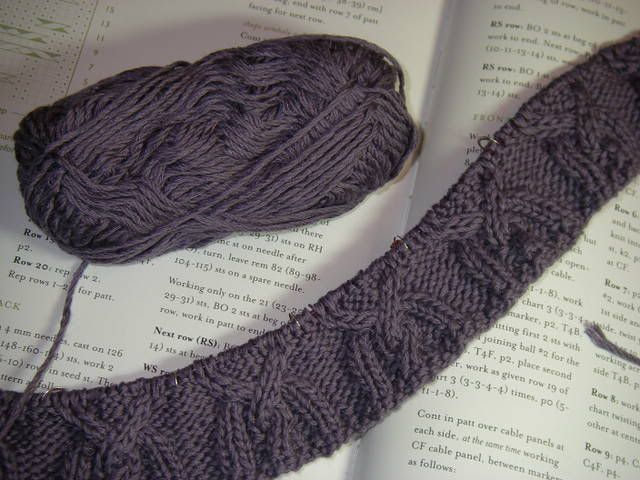 So now that it's started, let's talk about knitting a fairly detailed cable pattern that repeats 7 times across the sweater with firmly knit cotton yarn that's prone to splitting. Or let's not. I finally loosened up my grip quite a bit and things started going much better. I was afraid this would affect my gauge (which, quite honestly, I was going to resolve by simply going down a needle size right where I was 'cause I figured it's the lower back of a sweater anyway and my perfectionism is as worn out as I am). But oddly enough my gauge is still okay... maybe it wasn't okay to begin with... even though I swatched. I really don't know anymore. G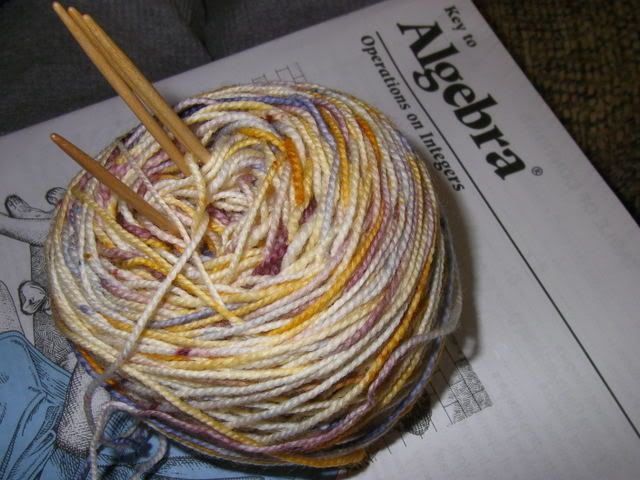 auge remains an elusive mystery to me most of the time so I guess I'll just be grateful and move on.
With Peek-A-Boo going, I was anxious to cast on for a new sock pattern I found today with my Koigu... but then UPS came (yes, he comes very late... often in a regular car... we must be on his way home) and brought these books. Algebra vs. Koigu. This was a tough one... I'm not going to tell you what I chose at the risk of revealing the depth of my inner nerdiness.
BTW - I will direct you to the too-cute the sock pattern... but not before I cast on first. ;)