Well, I definitely got my fill of basketball over the weekend, but I have to admit, I had a pr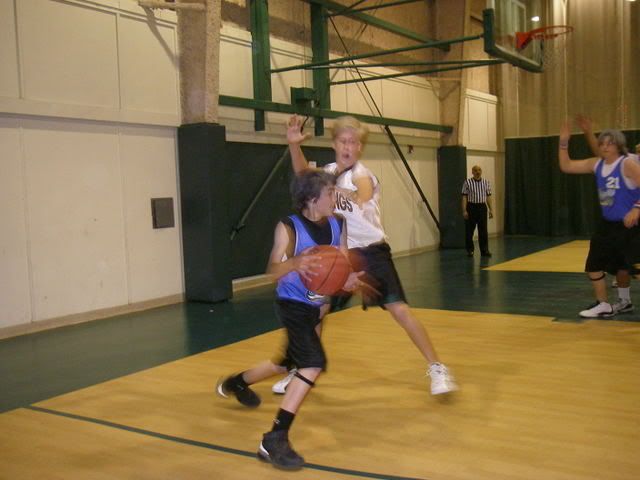 etty good time. There are several things that make basketball my sport of preference for viewing including... the time limit, the fast pace, and the close, unhindered view which allows me to identify my own kid (because, let's be honest, that's why I'm there).
Another thing I gained over the weekend was a greater appreciation for my oldest son. He's an independent thinker and not the academic type (as I've probably mentioned). He's struggled in school over the years and we've butted heads quite a
bit. However, when I watch him in his element... on the court or on a field... I realize that he has skills and talents that are so far beyond my reach that I can only sit back and admire him. This is not to say that he is the best or a superstar (whatever I may think) but just an acknowledgement of his intelligence and talents that I don't always appreciate. God has taught me much through this fine young man about recognizing and appreciating differences in others as strengths and not weaknesses. Lessons a gal who tends to be controlling and narrow-minded very much needs to learn... you know, so if I meet anyone like that I can tell them...
Sadly my gloating and adoration are quickly dimmed as soon as we get in the car and he opens his teenage mouth... but at least it's there for an hour now and then.
BTW - My boy is the one on the left in the group picture above. One thing nice about our homeschool basketball program is that he has been able to play with these same group of boys for about 5 years now forming some great friendships.
Anyway, I managed to finish one sock and immediately cast-on for the next. I would've kept going, but by Saturday night, I was beginning to doubt the wisdom of grabbing a pre-made, pre-packaged Chinese Chicken Salad from the grocery store for Friday's lunch. Saturday night and Sunday were not good days.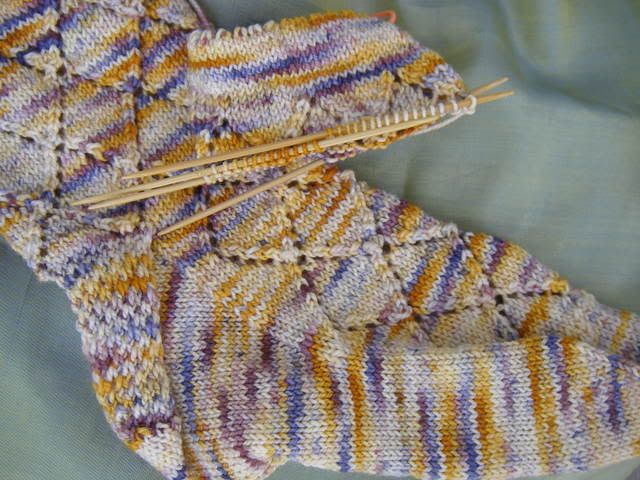 Today I felt better so I took the boys to the theater to see "Meet the Robinsons" which turned out to be a very fun movie... and rated G to boot! I didn't even know they still made G movies! What a treat.
But since I like to knit in theaters yet I didn't have any non-pattern knit-in-the-round or stockinette knits going, I grabbed my hank of Socks that Rock in the Harlotry colorway in honor of the arrival of her book in today's mail. Casting on first would've been a good idea but I was busy eating popcorn so I cast-on 56 stitches and knit the first round in the dark. Remarkably, my only mistake was a k2 in the midst of a k1p1 rib but it was enough to alert me that I had messed up so I had to put it away. Oh well... I gave it a shot.