Bonita is coming along. I finally got to the point where I separated for the front and back. I'm just struggling a bit to keep gauge with the fine cotton yarn on the purl rows, but it's getting better... and I just love decreasing!!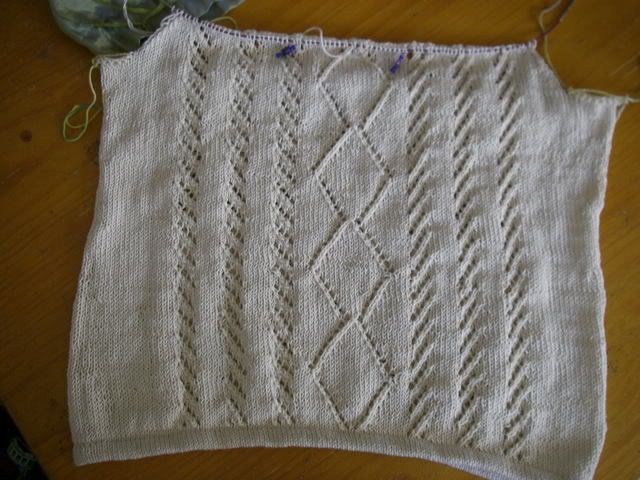 I started the "Napa Valley on Top" with SWTC Oasis Soy Silk last week. I like the stitch but it hasn't really grabbed me yet.
What I really need on the needles about now though is a simple knit-in-the-dark project for reading and movie going. Not that I go to a lot of movies but I did go to 2 in one week before I left for Mexico (making 2 total movie theater trips this year) and what if I want to go to another one?
What did I see, you ask? Well, I saw "Meet the Robinsons" which is a rare gem of a true G rated family film... no innuendos, no adult jokes... just very creative, playful, and entertaining fun. Next I saw "Blades of Glory" which, I must admit, was not so wholesome... but a great laugh. I took my 14 & 13 yo sons to see it (yes, I'm hanging my head in shame) the day everyone left for Mexico without me. I wasn't planning to let them see it, but what can I say... I was depressed, I wanted to laugh, and I didn't want to go alone. It was actually fun to grab them and do something with just them... and we left the theater laughing together while I made them swear not to repeat any lines at home. At the risk of causing irreparable damage to your opinion of me, I must admit that Will Farrell, although often a bit too lewd and crude, cracks me up. Sorry, but it's true.

Anyway, back to knitting... I'm just trying to figure out what my simple, portable project will be. While I'm unlikely to go to a theater again soon, I do have a stack of good books to read.
I'm thinking of starting this cardigan... it would be great for summer.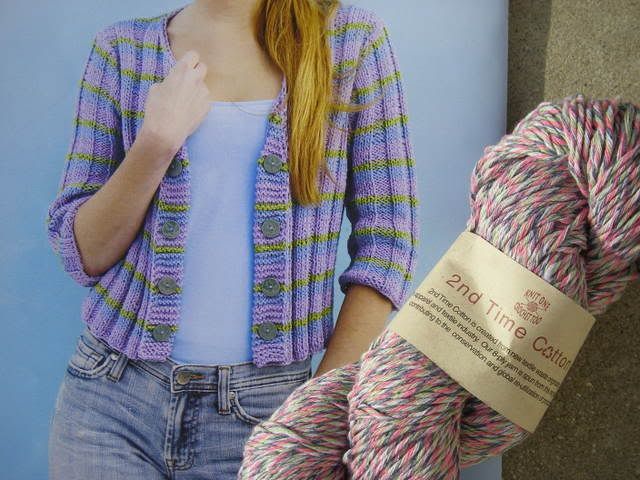 Or, I could start
Knitty's Tahoe
with the Cathay and Koigu pictured.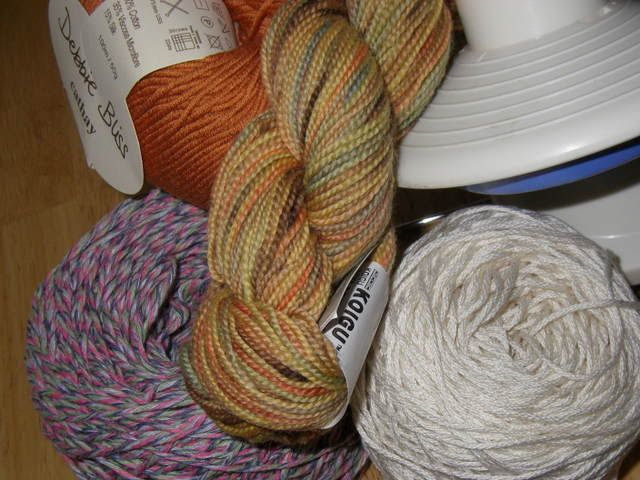 Hmmm... it is long sleeves, but I do love the yarn and colors. I guess tonight will be a Pay-Per-View movie and swatching.
Speaking of PPV, we watched "Stranger than Fiction" last night... great movie. It was a totally different role for Will Farrell, and Emma Thompson and Dustin Hoffman were outstanding in their roles. (At least per my humble, uneducated movie-watching opinion.)