Is blogging knitting? I mean if I were to actually write about knitting... is th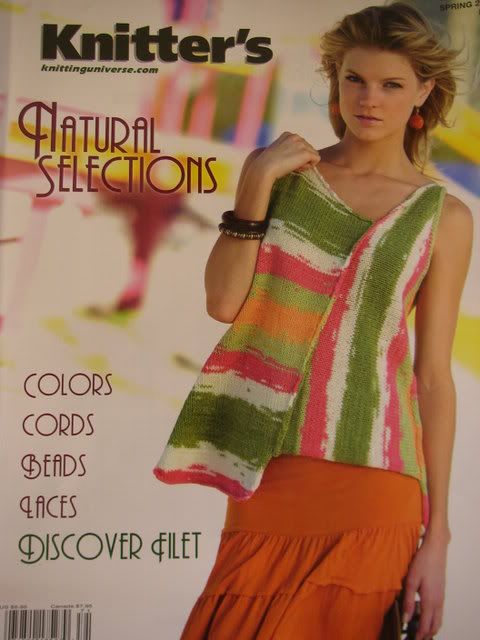 at knitting? How about knit blog surfing? You know... getting ideas, admiring the labor of others, learning new techniques... knitting? What about gazing and daydreaming over knitting books and magazines... marking the pages... checking your stash for comparable yarn substitutions? Isn't this all a part of knitting?
I'm prone to purchase most knitting mags when they come out whether I'm likely to knit anything from them or not. (I can tell you right now, I'm not.) I can barely stand the excitement of waiting for my quarterly Interweave magazine (btw - their
Summer Preview
is up for admiring now) and I even have a collection of patterns purchased and downloaded from the internet that I have yet to knit... as if they'll disappear into cyberspace before I'm actually ready to knit. And honestly, once I've made that pattern purchase, just a dash of my enthusiasm begins to wane.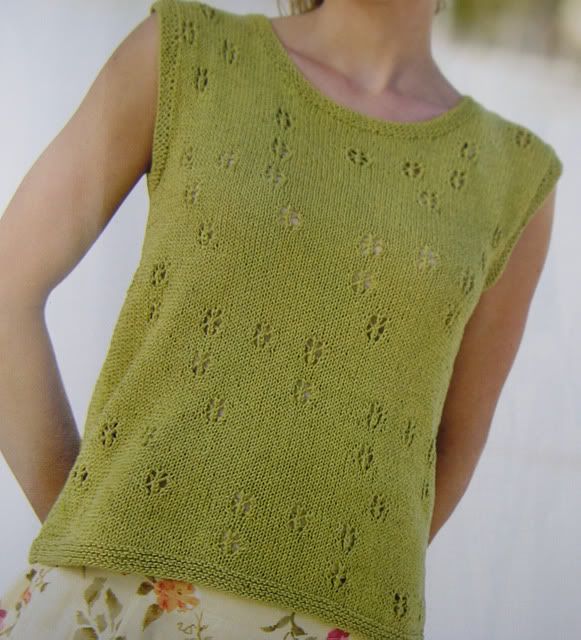 I swung by the LYS today looking for yarn for a top my mom has taken a fancy to (and since I am sitting right in between her birthday and Mother's Day it seems like a good time to start) and glanced through the latest
Knitter's Universe
. It's not one of my favorites but it did have this hemp tank in it and I do have some hemp that needs knitted so... I had to grab it.
This, btw, was obviously of great concern to a lady knitting at the table because even though she assured me that she did not intend to buy it, she felt the need to twice inform me that she was pretty certain it was the shop's only copy... and I had to wait (with kids in tow) for her to look through it cover to cover... an
d, "No" she didn't want it but it was "the store's only copy"... again. A kinder person may have just left it but I can get a bit oppositional (heh) at times so I scooped it up once she was done... which coincidentally was about the time the 3rd kid came in from the car to see, "What's taking so long???" If I broke some unknown knitter's rule of only magazine etiquette here, please let me know.
Anyway, it actually has a quite a few cute tanks, etc. Coincidentally, I happen to have yarn and patterns already on hand for quite a few cute tanks (etc.) but that seemed irrelevant (as it did a couple of weeks ago when I bought some Rowan 4-Ply Cotton on sale for
Knitty's Isabella
).
But is anything getting knit? No!
But darn it, I feel like I'm knitting. Afterall, it's almost all I read, write or think about... and I'm pretty sure that the browsing, reading, and planning (read daydreaming) are part of the knitting experience. But sadly, I'm finding that it doesn't produce a lot of results... just a dent in the wallet and a bad case of frustration.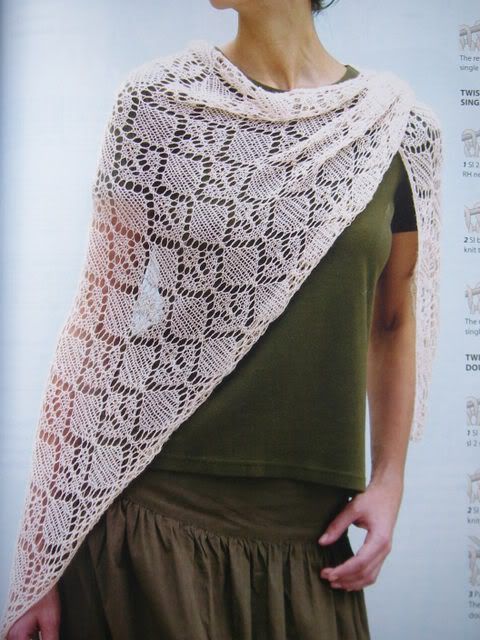 BTW - I bet she's wearing an Old Navy t-shirt under this shawl. I so wish I could pull off that look... but I would just look like a, well, like a woman in an Old Navy t-shirt and shawl... how odd would that be?!
Focus... I need to focus... and knit... really knit... with the yarn in my hands. Yeah... that's what I need to do... knit.
I am working on my 2nd Embossed Leaves sock! I'm enjoying this pattern so much that I was actually anxious to cast on. But what's going on with the colors in that 2nd hank of Koigu? I'm going to ignore it... I must... any other option (ie. frogging and alternating hanks) is just too painful to consider.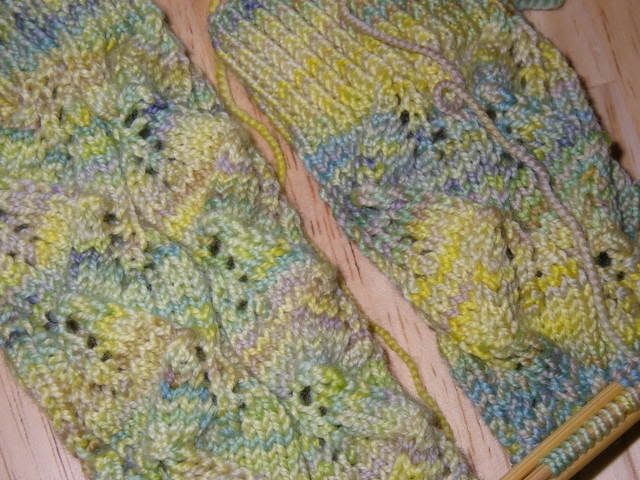 PS... I bet you have no idea how easy it is to mess up a gourmet frozen dinner! Especially one that starts by telling you to pre-heat the oven, then "pull the perforated tab at the short end of the box to open". Laughing at their silliness, I didn't even stop to consider that I'd already opened it at the wrong end. No that, of course, didn't ruin the dinner... it was the obviously way too technical timer instructions that threw me.
Focus Tammy, focus!