It's amazing how many times I can flip through the pages of a new knitting magazine without getting bored. Some patterns are love at first sight, some are quick to catch my eye but start to lose their appeal by the 3rd or 4th time through, some don't catch my eye at first but grow on me slowly, and of course there are... you know... *those* patterns that have to make you stop and wonder every time you look.

I like this issue a lot. Along with a good variety of patterns, there's an article by Ann Budd on knitting socks toe-up and her favorite sock yarns.
So, after several trips through the new mag, here's a few of my picks...
I like Amy Singer's Montego Bay Scarf, but mainly because it's knit from 1 hank of Handmaiden Sea Silk, which I really want to try.
And for some reason I really like this Summertime Tunic. It's totally not my style and I'm probably too old to even try to pull it off, but I think that over a tank (would definitely need at least a tank underneath), it would be cute. Oh well, a gal can dream.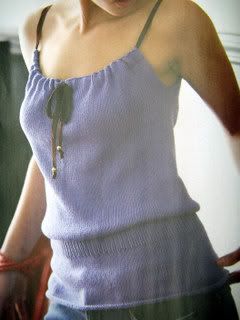 This Wheat-Ear Cable Yoke by Pam Allen is very eye-catching... but I'm not sure why it's knit flat and joined at the yoke instead of being knit in the round. (But since my knitwear design knowledge is pretty much nil, I won't question it further.) Anyway, I wonder if this could be knit with short sleeves making it more practical for our weather. Maybe knit with some Brown Sheep Cotton Fleece or Rowan Calmer from my stash. Hmmm... any opinions.
Could it be pulled off with short sleeves??
There are several other items I would love to knit but don't suit our climate.
Finally, I'm crazy about this Lutea Lace-Shoulder Shell by Angela Hahn. Knit in the round with Classic Elite Sundance (a cotton/microfiber blend)...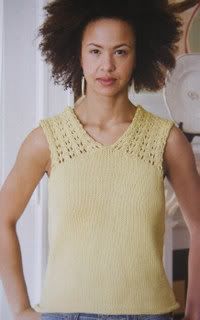 Suffice it to say that I'd ordered the yarn within a half hour of receiving the magazine.
Yes, there are a few of *those* patterns, but I'm not going to point them out because to each his/her own. But one question about handknit dog sweaters... does anybody ever knit sweaters for sheep?