I hope you enjoyed your long weekend. I hope you got a long weekend!
Saturday was strange as it was our first Saturday in months without any baseball games. You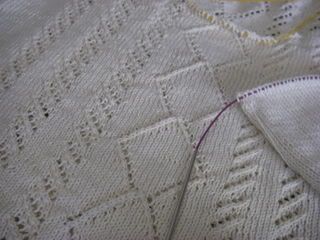 would think we would've awakened overjoyed with great plans of doing nothing (except for the few things we'd been wanting to get done). Instead, my whole family sort of moved around in some sort of restless void. We were all feeling a bit... can you believe it... bored?! Totally bizarre.
However, this void was short lived as we had a surprise party to attend Saturday night for my dad's 60th, a church picnic on Sunday, followed by a family dinner at my parent's home with my out-of-town brother and his new wife on Sunday night. My kids don't get to see their aunts and uncles nearly enough for their liking so instead of pulling them away from their Monopoly marathon, several of us chose to make it a slumber party with late night movies and all.
All good times... but definitely more social activity than my homebody self usually prefers for a weekend. I did finish Tulip and presented it to my mom... it fits her great and she was thrilled, but, of course, I didn't have my camera. I'll have to catch her later.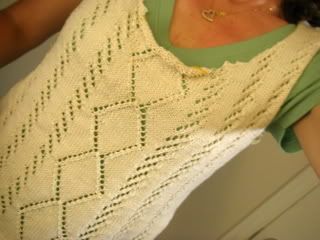 Following Tulip, my focus shifted to Bonita. This poor top has languished in my bin for months, but I'm finally nearing the finish line. It was with a huge feeling of dread, followed by a giant sigh of relief when I was finally able to try it on and see that it would, in fact, fit... just the fit I was hoping for too!
I'm now working on the sleeves. The pattern calls for them to be cast on with a provisional chain cast on. But after
my experience
using this method to cast on the initial 222 stitches that made up the gem, I decided to go for the much simpler
long tail provisional cast-on
. (That and the fact that I didn't want to have to find my
crochet hook
again.) Hopefully it will work out okay.
Finally, after much
obsessing
, trial and error with different yarns and patterns, I found this in the Rowan Spring/Summer issue that I bought for my mom's Tulip...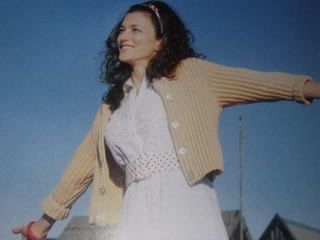 "Maris" in Rowan Calmer.
The perfect white summer cardigan! Coming soon!