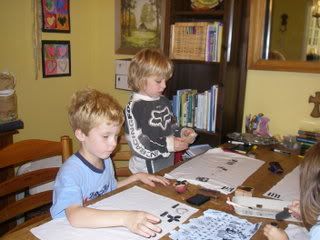 This is me at Geography Class sitting next to my friend. We are doing African stamp art.
This is me a few minutes ago. I am making a puzzle with a whole bunch of Nickelodeon shows. My mom got it for me today when I was at my friends house.
This is the puzzle that I was doing a few minutes ago finished. It has Sponge Bob, Danny Phantom, Fairly Odd Parents, and more.
This is my mom knitting.
Good night.