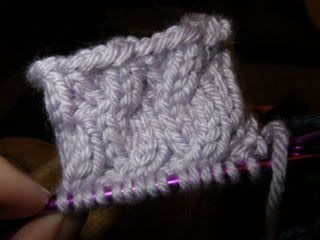 Seven... that would be the number of people in my family. So when I say that my WHOLE family has the flu... that would mean SEVEN people have the flu... at the same time... under the same roof... in the same small living room... fighting over the same (big screen- fwiw) TV. Actually, to be precise, middle child W who brought the heinous bug into our home is about 24 hours ahead of the rest of us in recovery so poor child is the official ginger ale pourer. To put all this in perspective... I don't even feel like knitting! This picture represents the extent of 24 hours of knitting. I'm trying out one of the popular Knitty Fetching gloves as possible gifts.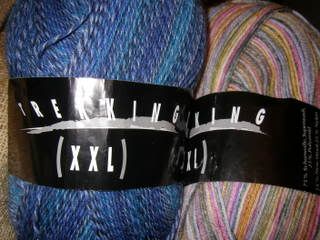 Oh well, as you can see, I have another illness as well. This arrived in the mail yesterday. I love the colors... and I got it on sale. What can I say... somehow Astrid of Astrid's Dutch Obsessions (Obsessions - heh, does she have it nailed) got my e-mail addy and has proceeded to tempt me with incredible sale yarns.
Well since it's clear that I do much more sock yarn buying than sock knitting, I've decided to make it official and declare myself a Sock Yarn Collector.
Hmmm... maybe some year we'll move to Alaska and then there'll be a worldwide sock shortage... but I will be prepared! Yes! Then I alone will be able to knit socks for my whole family to get us through the great worldwide wool sock shortage crisis!
Ya never know... it could happen.