Yesterday was school picture day for our family. Now I never make a big deal about this and I will admit I always feel a touch guilty as we wait our turn and I see all the other boys in neatly pressed button down shirts with their hair combed just so into position because truthfully... I don't set my standards that high. I'm a realist... actually we could probably go with struggling to stay sane here... and I set my goals for picture day pretty low. I'm usually shooting for a clean shirt (polo collar is a plus) and clean hair without any sprouts standing on end. I feel I'm being reasonable with them here... stay clean.
So it was finally time to go and I was whisking through the house running just on time ("early" is not in my vocabulary) handing out the clean, unwrinkled shirts they would wear when I came upon my little guy, who had briefly been left to the care of his oldest brother, "coloring" quite enthusiastically with a blue marker. While I did notice a piece of paper with some blue lines, what really caught my eye was the blue knees, blue hands and blue face (mostly the blue face). I took a moment to gain control before I gently rebuked his big brother (okay, you can insert kinda yelled here) and began the cleaning process. Fortunately his face had suffered the least of it and after a few moments of intense scrubbing (now he was yelling) he had a clean, "rosy" glowing face. (I hope his hands aren't in the picture.)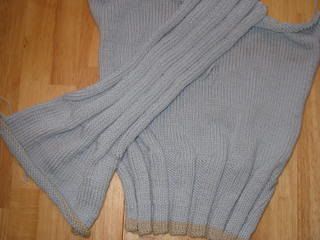 On the knitting side, after some careful (sleepless) consideration, I am thinking that Viveka is not going to work for me. I'm not the most knowledgeable on a lot of the aspects of yarn substitutions such as drape, memory and blocking (still learning)... but I do know this... this pictured sleeve and back are going to in no way "drape" without some severe repeated blocking. I'm imagining some pretty awful pictures of the finished sweater at this point and am thinking that I'd best save my luscious DB Cashmerino for something else. BTW - If I am wrong and anyone more knowledgeable can give some insight here, whether it be blocking, yarn subs or ditching completely, I would greatly accept your recommendations.
Oh well... it's not like I'm left empty handed.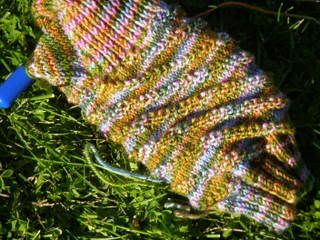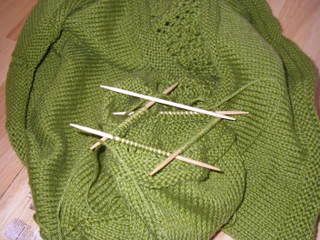 On a side note, I just noticed this picture in the "My Pictures" file on my computer. Wonder what it's doing there. Hmmm... now I do feel empty handed.