I couldn't resist... it called to me every time I walked by... enticed me with it's deep rich colors... it had waited so long and I had been so neglectful...
Now don't get me wrong, I am deeply in love with Ella and am greatly enjoying knitting this shawl. And yes, I can not wait to finish Viveka and wear this gorgeous sweater in the luscious cashmerino. The SKB you ask? I have not forgotten it... oh no... my mind keeps wandering to how quick and simple it would be to finish up those sleeves... yet it waits. And let me just give a big "Go Buckeyes" shout in salute to the 1/2 finished scarlet & grey sock on the needles. But alas, I am a weak woman...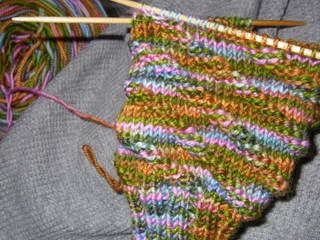 I finally broke... I couldn't hold out any longer against the incredible Socks that Rock yarn in my sock yarn drawer. It had been rolled and waiting for so long... and the other day as I walked by I heard it! It said... "Please, I want to be RPM socks. My colors are glorious and rich. I promise not to disappoint and guarantee that I will look stunning on your feet. You need me." Really, it did!
So, for the 3rd (4th?) time in the last couple of weeks, I did it... I. Cast. On. The RPM Pattern is a blast and this picture does not begin to do the Dutch Canyon colorway justice. The variation of cool and warm colors is so unusual and stunning.
So now I just sit here and wonder... will I ever finish anything again? So I must stay strong... no more casting on! At least for a while. :)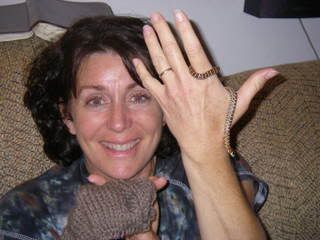 Fun Stuff: This here is my fearless pal Andee who was brave enough to visit us one night for some knitting help. She was immediately accosted by boys with their new snakes and we were all shocked to see her actually hold one! What a trooper... no wonder my kids love her!
And finally, the highlight of my week... I ran into fellow blogger, Wendy of Knit & Tonic, at a yarn store! What fun to meet an internet pal in person! (I tried to act very cool and not gush.) And I have to tell you... she is just as beautiful in person! Don't let her fool you with the whole camera angle thing.