There are many times when this little phrase is appropriate or at least adequate... but I want to talk about the times when it is inappropriate, inadequate, or just plain insensitive. Such as, when one (especially one who considers a collection of Old Navy t-shirts in every color a complete wardrobe) spends months knitting a beautiful, challenging sweater out of silky soft, drapey yarn from a vague, minimal pattern... and it turns out stunning and fits just right... and one puts it on for the very first time to wear it to church and asks her husband (who has not seen the finished sweater), "So, what do you think?" and he replies... "nice".
"Nice? Do you have any idea how difficult this was to make? How long it took? How many hours of my life are invested in this? Or how about the mere fact that it's not a t-shirt?" Husband looks up with strange glare, "What? It's very nice."
I know you are all out there sighing along with me... and rest assured that as soon as I arrived at church I received the stunned admiration that the sweater deserved.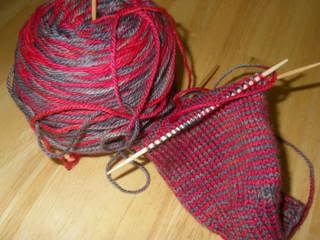 Now this sock here definitely appears to qualify for a simple, "That's nice." But, how about if you spent hours tracking down some sock yarn in university colors for the Ohio State Buckeye fan in your family... the one who raised you in scarlet and grey sweatshirts and always made sure you had a buckeye to carry for good luck... the one who flies back to Columbus once a year for a game and returns with all things scarlet and grey for you & your kin? And how about if after hours of research, you are able to find not just any yarn, but Lorna's Laces Superwash Sport Merino especially hand-dyed for some little shop in Ohio in the perfect Buckeye colors? And what if the shop doesn't have a website so you wait all weekend to make that long distance call on Monday morning (a way stretch beyond on-line ordering) and spend a ridiculous amount of money on the yarn and shipping so you can thrill the Buckeye fan in your life beyond her wildest dreams? Okay, now let me ask... when said beloved fan sees the sock-in-progress, is "That's nice" still an adequate description? Then imagine they follow it up with, "As long as it's not wool." Humph... guess it's time to give Jaywalkers or RPM a shot with the Socks that Rock yarn I have upstairs.
Oh well, I finally have found my groove with Ella. It took a while but I did figure out how to do the purl rows backwards (my usual way to purl) so things are going much faster. I am so glad I had seen pics on the internet of the shawl in progress before I got to this point or I would think that I was doing something seriously wrong! This is definitely an item that will need major blocking. I must admit that I relished the look on DH's face last night when I showed it to him... he acknowledges very little about my knitting (obviously) but this one actually made him look concerned... I could see him thinking, "What is it? Is she really going to wear that?" I think that just for the fun of it I'll wear it out one night before it's been blocked... $20 says I look "nice".