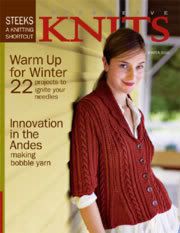 Is yarn really necessary? I mean, of course it is, but isn't knit blogging and pattern surfing a close, real close, 2nd? I was just checking out the recently posted Interweave Winter Preview and am already drooling over a few of the patterns. (Mind you, I'm not sure I've ever even knit anything out of an Interweave mag but I always intend to and covet them just the same.)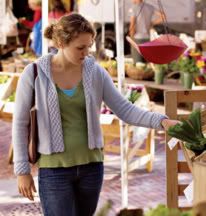 I love the light blue hoodie and will probably add it to my never-ending mostly-imaginary list of things I will someday knit. (And meanwhile I'll watch for more DB Cashmerino Aran sales... I just ignored 2 of them... bummer.)
As for the red sweater... need I even say more?
Maybe I should set my mind on the vest... it woul
d be a shorter, interesting knit and more practical here in So Cal. Unfortunately, I think it falls in the category of things I want to knit but would probably not actually wear... unless I can wear it over an Old Navy t-shirt... and lost about 3 inches around my waist. (See... this is way it's called daydreaming.)
And then there's this
book
I came across... and I am just sooooo a denim person.

As for blogging... check out my cool little
percentage bars
. Very fun but make me feel woefully unproductive. Should really finish SKB while I wait for the 16" circulars I ordered for the hats. It's like paying off your debt by starting with the smallest bills first... hmmm, socks would technically be the smallest. Maybe I should nix the bars and go on living in ignorant fiber bliss.

Is knitting supposed to be like this?