Spent today at the L.A. Zoo with the boys. The boys had a great time and I thoroughly enjoyed their delight. You'd think I would've taken tons of pictures (I mean... any good mom would, right) but, lo & behold, I forgot. Duh!
I did snap this a couple of shots of my teen with the little guy... mainly because I was so to
uched by the way big brother took care of him during the day. (They really were happier than they look in this picture... really.)
Finally, after at least a half-hour in the gift shop picking out the perfect souvenirs (4 of them just got gummy bears or worms so I got out cheap), we packed up and headed home... but not without a little field trip stop for the driver.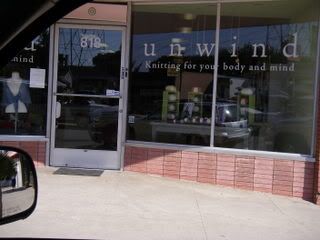 A quick detour off the freeway took me to Unwind in Burbank for a quick look around. (You can imagine my boys' delight.) Needing a souvenir as well, and not having the luxury of time that my boys enjoyed in the gift shops, I quickly settled for a super soft ball of Lana Grossa Cotton Fun sock yarn in beiges. Ahh, sock yarn, the perfect yarn shop souvenir!
And yes, I do feel a bit guilty that I didn't forget to take a picture of the yarn shop I visited for 10 minutes, while the 5 excited boys exploring the zoo for 4 hours escaped my camera almost completely.