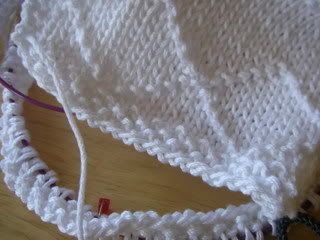 Still not able to quite shake my thoughts of a cardigan, I made a quick stop at the LYS while out running some errands today and grabbed a $5 hank of Tahki Cotton Classic to swatch and play around with. I think it could work... very nicely. I really like the diamond pattern since I get hopelessly bored on long purling rows, but now I think I want to try to knit the sweater top down instead of bottom up so I'm going to have to tackle some math. But playing with some white yarn was enough to get some ideas going and take the edge off for the moment.
In the meanwhile, I received a nice little distraction in the mail today. But that will have to wait for a photo shoot tomorrow.
BTW - I added some Malabrigo to my
Stashout
page today.