What?! A finished knit? Could it be? Yes!
Presenting Interweave's Embossed Leaves Socks knit with Koigu kpppm...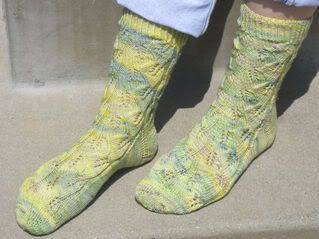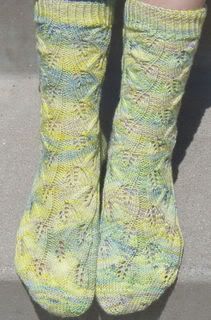 I definitely have some pooling going on and though it does bum me out a bit, I still LOVE these socks. I enjoyed the pattern, working with the Koigu, and every last stitch.
I have a couple of lonely onlies that need matches but I can't wait to cast on for another pair of
Favorite Socks
from Interweave.
Darn pooling. But please don't suggest that I knit alternating rows with 2 balls at once because I will just laugh. People usually only see part of your socks anyway... right?
Oh well, it's a good thing I'm not a perfectionist. I don't notice it as much when they're on my feet. I will just never look at this picture again.
Something Red is nearing completion as well, so I may have a second finished knit to post this week. Woo-hoo. Maybe the lack of caffeine is helping me actually sit still and stay focused on one thing at a time. Hmmm??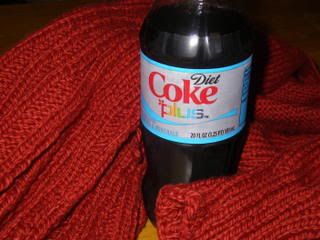 Speaking of which...
Laura
, you alone are responsible for the above. I had to grab it when I saw it in 7-11 after seeing it on your blog. Diet Coke with vitamins and minerals?! Wow! That's practically a complete diet! Yes, I know... caffeine. But I have cut back, way back, to a small(er) coffee in the morning. This was the first diet soda I've had in almost a week!! But I'm thinking that with the vitamins and minerals that maybe this should be my morning drink... much healthier I'm sure. I mean it does have vitamins!
Finally, a gratuitous picture of oldest son pitching and number two son playing 2nd base to the left... because, you know, you can never have enough sports pictures in a knitting blog. Really!
You can't tell here, but he looks like me. "Of course he does," you're probably thinking. But when your the olive-skinned, brunette, brown-eyed mother of 4 fair, blond, hazel eyed boys... believe me... it's worth pointing out that one does, in fact, look like you. (He hates it by the way.)