I'm a horrible nickel and dimer. While I'm pretty unlikely to make large dollar purchases. I can walk through Target and pick up 10-20 semi-necessary, somewhat useful $5-$10 items without thinking twice. I think this is why I have such a growing collection of sock yarn. Of course, I'm suckered in by the beautiful, unique variety of colors, blends, weights, and patterns available... but in the world of high-end yarns, sock yarns are the nickel and dime items. The fact that I don't need any more sock yarn (ever) along with the fact that even small(er) dollar items do add up mostly escapes me. Actually, I'll be honest... I'm not a stupid woman... it doesn't really
escape
me, I just choose to ignore it. Denial, not ignorance, that's just the way I roll.
Now the above actually does not have much to do with this post... but believe me, it will be good background information to tuck away if you drop by my blog through this upcoming week. Just saying.
This purchase here was a find that was just too amazing to pass up.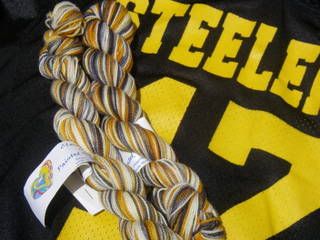 Claudia's Hand Painted Yarn in the colorway "Steelers"! The very colors of our youth football teams and the local high school. I don't think I could've even justified passing this up and still considered myself a good mother. And, heck, even if they don't become socks in time for football season, I can just wave the hanks around like pom-poms at the games!
Finally, a couple of gratuitous kid pics...
Gotta love a good Saturday afternoon game!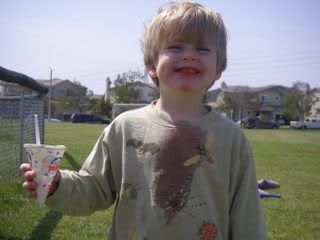 And here's an older one of Dan-the-Man that I just came across on my cell phone. It expresses the very essence of his enthusiasm for life. (The dark side to that enthusiasm, btw, is the ability to throw one heck of a dramatic tantrum.)