Well, today was a big day for us. I enrolled my oldest son at the local high school for the fall. He'll be a freshman. I knew this day would likely come and we have prayed for wisdom in making this decision for many, many years. I'm happy to say that I feel very confident and peaceful about the decision... but it still was a big deal to me on many levels. 1) He's leaving home to go to school. 2)I'm going to have a high-schooler. 3) He'll be 18 in 3 years and graduate in 4 years. 4) I'm getting old.
I'm actually very excited for him. He's set up to play football and I know he'll love all the activity around him. However, to say that he is academically unmotivated would be, at the very least, a great understatement. So, as I expected, he quietly sat through our counseling appointment with very little interest while we selected his basic classes. Then we get to the exciting part... choosing an elective! (I've been so excited for him to get to explore some different areas of interest.) We point out woodworking and a variety of computer classes (both things he loves) and he asks, "What about Spanish?" Huh?!
Counselor: "Well, yes, you can take Spanish."
Son: "How many years of foreign language do I need?"
Counselor: "To graduate or for a 4 year college?"
Note: I've been hoping for high school graduation (without too much summer school) in 4 years.
Son: "College"
Counselor: "At least 2, preferably 3."
Son: "Spanish then. I'd better get started."
Me: Who is this sitting next to me and what have you done with my son??????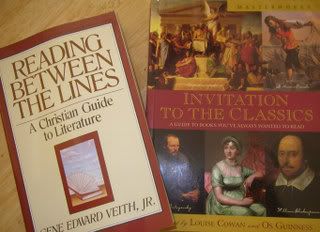 Anyway, in my own effort to increase brain cells with classic literature, I ordered these books from Amazon. I love the
Invitation to the Classics
. It has a great bio/review of each author and his/her work, helping the reader to gain some additional insight. It also features "Issues to Explore" and ideas "For Further Research" on the featured books. (Some great discussion topics here,
Julie
. BTW, when you get a moment, say a prayer for Julie. She lost her father last week after a long illness.)
Boy... Algebra, good literature... and I'm excited about both. Education really is wasted on the young. (And yes, btw, I do collect books much like I collect sock yarn.)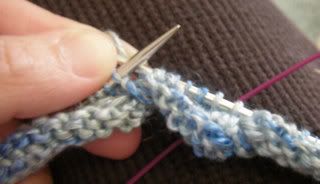 I also had to show you this cool edging that is knit into the bottom of the Rowan Tulip sweater. After a few rows of stockinette, you actually twist the left hand needle every so many stitches, flipping over the row of knitting, and then proceed. It produces this nice ruffly trim.
Oh, the sock in progress at the top is being knit with Cherry Tree Hill Supersock in Spring Frost using the twisted loop stitch from Sensational Knitted Socks. It's my first time using CTH and I am loving it... the colors, the feel, the squishiness... all of it. (I figured if I was going to ramble on about my son and those Karamazov Brothers, I should lure you in first with a picture of actual knitting.)