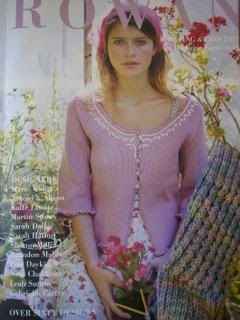 I've been wanting to talk about the latest
Rowan magazine
(Spring/Summer 2007) since I got it last week to make
my mom's Tulip
.
I will admit that my experience with these Rowan bi-annual publications is limited, and I only own the last two, but I have to say what a pleasant surprise this one is. While I have always found their designs to be interesting, they definitely leaned to the more artsy side... both in pattern and layout. There were very few things in the last couple of seasons that I personally could imagine knitting, let alone wearing. (But again, I have to insert my Old Navy disclaimer here. My sense of style is really quite limited.)
This issue, however, is beautifully laid out with a great variety of lovely, wearable, heck - realistic knits. Here are just a few of the ones that I admired.
Bonita knit with Damask (same as the yarn I'm using for Tulip... very nice)
Marble (knit with doubled 4ply Cotton for a sort of fair isle look)
This one definitely has that unique yet highly practical look that might make it to "cast-on".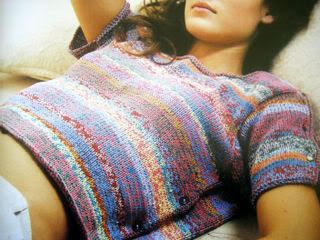 Coastal - Also with 4ply Cotton
Nerissa knit with Handknit Cotton
Henley (hers - Calmer), Shaw (his - Handknit Cotton)
There are actually a couple of very nice, masculine sweaters for men... as well as a great variety of unique tops for women. There are even a few cute household knits.
And then there's my favorite. Yarn and needles await... and you must await too. :)
Now I'm off to read and knit. BTW
Julie
, I'm on page 225... have you flown past me again?