Actually, the package on the bottom brought the standardized tests for the boys. I'm not in the habit of testing regularly since I don't "teach to the test" but since test taking is truly a skill in itself, I do it occasionally for the exposure.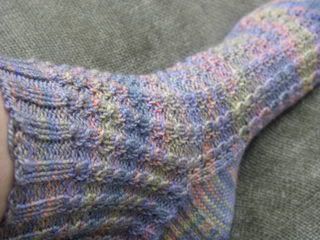 The best part... test proctors have time to knit. Yesterday I finished knitting the pieces of Tulip, so I took a day off today to finish a sock. Cherry Tree Hill Supersock in Openwork Rib from Sensational Knitted Socks. Love it!
I also got a bit of time to read this afternoon.
The Brothers Karamazov
is an amazing read. It really engages the mind... which I love... but it makes for poor bedtime reading. So enter
Agatha Raisi
n, my favorite brash Cotswold detective for a little mindless pleasure.
(Did you know that you can knit a pair of short summer socks out of only one hank of Lorna's Laces? Just saying.)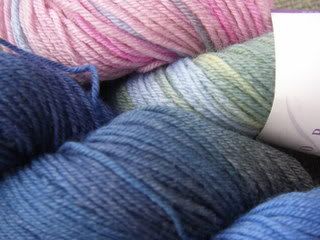 Anyway, from"The Brothers":
"... as soon as man rejects miracles, he will at once reject God as well, for man seeks not so much God as miracles."
Genius insight... Sad, but true.