I'm here, but no new knitting to show you, unless you want to see the heel I turned on a sock today. Nah... probably not. Today was spent at
Six Flags Hurricane Harbor
where my time was devoted to my youngest since I had promised that I would be able to play with him all day today. There was no shortage of play area for a little guy like him... and he wanted me next to him at every moment. My pleas of "But Mommy won't fit down that slide," meant absolutely nothing to him. But it was worth every slide and splash since he can never get enough Mommy-time and it's one thing that can be spread a bit thin around here. So we slid and we splashed and we floated around with Brother on a rented 2 person inner tube. The boys even managed to get Dad to take the day off work to go with us, so I'd have to rate it as a great day.
Note: Yes, pictures of wet, splashing, happy boys would be great about now... but, of course, I forgot my camera. I mean, it's not like I was going yarn shopping or anything. (Ugh!)
Anyway, all that said... I really don't care for water parks. What I do like are the big roller coasters we could see at
Six Flags Magic Mountain
right next door. I like things with tracks... built by brilliant engineers... technologically designed to give you the maximum thrill within a precise range of safety and structural guidelines. Fast, sideways, upside down, all around - bring it on. But water slides? In my opinion, they just leave way too much room for human error. No tracks, no stability. I mean how do they no that any given slide will provide the necessary safety for a person of unspecified weight, size, or, well, wiggling? Rafts can tip, people can flip... and as for the enclosed dark tubes... nope, I can't even talk about it.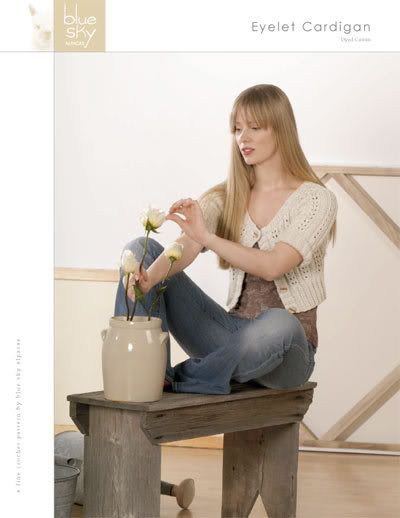 So I'll talk about knitting. Actually, I'm going to direct you to
a blog
I just found (through
Kaity's blog
) and let her talk to you about knitting and a
contest
she's having right now. Ali is a designer for
Blue Sky Alpacas
and
a fellow homeschooler! (I thought that was way cool.)
BTW - She designed this
Eyelet Cardigan
here which has had my attention for some time.
Well, one of the contest rules is to make a list of summer knitting goals. Although I don't really have many specific goals myself... and I especially hate to put anything down in writing since I tend to rebel against even my own best intentions (remember my, what was it, 2 week attempt at
Knit from Your Stash 2007
?), the contest is simple and involves possibly winning yarn, so I'm in!
My Summer Goals (on which I'm sure to look back and laugh):
Finish Mom's Tulip
Finish Bonita
Finish Lutea Lace-Shoulder Shell
White Cardigan (more of an obsession really than a goal)
At least one other summer tank or top
6 pairs of socks (yes, really, this will be necessary to make up for my recent sock yarn splurges)
I'm stopping there. I would like to think that I'll knit several tops, dozens of socks, and a great wrap. But I'm trying to keep at least one foot on the ground here.
What are your goals???