As some of you may have heard, Pirates of the
Caribbean
: At World's End was released tonight at 8:00. This is nothing less than a tremendous event in our home... probably the highlight of the year! (Really!) I promised the boys we could go tomorrow morning since we just wrapped up our week of testing today.
But feeling kinda antsy tonight, I grabbed a few of the boys and hopped in the car at 7:45 to see if we could catch one of the 4 shows starting between 8 and 8:45 at a nearby theater. Now, of course, this was destined to be a futile effort, but, well, what the heck.
"Just a minute," yells Daniel...
Okay, ready to go.
We arrived at the theater, walked right up to the ticket booth, and by 8:02 we were sitting in the theater with popcorn and sodas in hand (in great seats I might add) for the 8:10 show!!
Of course I got dressed up too...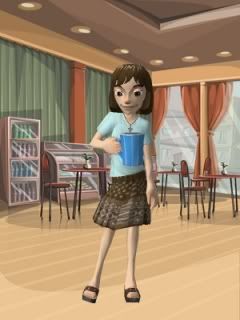 (Well, I was wearing black pants.)
We exited the theater around 11:00 to find mobs of people waiting to get in... including my oldest son who was there with a group of friends and a dad who had purchased tickets for the midnight show over a week ago!
Oh, and the movie... Awesome! Exciting, funny, action-packed, and unpredictable... no sequel slacking here!
ETA: As thrilled as my sons are to have a mother that will not only take them to see Pirates but enjoy it as much as they do, it was much to their chagrin that I was the only person to give a big "Woo-hoo" for "the kiss". What kiss? I'm not telling, you'll have to see it yourself.
BTW - If you've seen it, e-mail me... I want to know what you thought! tlreed_81 at msn dot com