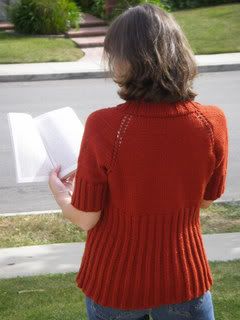 Ta-da...
This makes 2 finished knits in one week! I may be on some kind of roll. Maybe it's the new less caffeine me. Nah, unlikely... probably just a phase.
The verdict... I love this sweater! It has to be one of my favorite knits ever! I think I really get a lot of wear out of it too.
You can see that the front edging does pull up a bit at the bottom. A good, patient knitter would've ripped that out and re-did it before posting finished pics... but me? Not so big in the patience department. I'm going to wait and see how much it bothers me before I do anything drastic.
As for the specifics...
Blue Sky Cotton - Tomato
Size 7 Knit Picks Options
Size: Small
Modifications (or, more accurately, mistakes):
(1) I erred on the side of a looser fit when separating the sleeves. I probably would've been better off right at Wendy's suggested length.
(2) I picked up 20 less stitches around the sides and neck for the collar than the pattern recommended (thus the pulling I'm sure).
On another note,
Julie
and I have decided to encourage each other to delve into more classic literature by doing a little RAL (read-along). She chose the first book,
The Brothers Karamazov
by Fyodor Dostoevsky, that you see me holding above. (A nice thick book... she clearly has set her goals high.)
She wanted to start today so I made a quick stop at Borders where I would normally grab the cheapo Penguin version of any book, but since I wanted to be able to actually read the type, I selected a larger (and more expensive) version that seemed to lay open nice and flat (for knitting along). I figured I was going to be spending quite a bit of time with this book so the extra $10 was worth it.


And yes, I'm familiar with the library but they actually expect me to return the books I borrow... and on time at that. Believe me, Borders is cheaper in the long run.
Off to get started...
PS... I received my Summer issue of Interweave Knits today! More on that tomorrow. Hopefully it won't interfere too much with the Russian Brothers.