–noun
1.the domination of one's thoughts or feelings by a persistent idea, image, desire, etc.
2.the idea, image, desire, feeling, etc., itself.
3.the state of being obsessed.
4.the act of obsessing.
A couple of weeks ago, I got a little hankering to knit a white cardigan for summer. It seems I always need one and can never find just what I want in the stores... one that is cute but casual... one that can be thrown on with jeans or top a skirt if it's a chill church morning... one that was just right. Oh, and most importantly, one that would look good with an Old Navy t-shirt. A simple idea takes root.
As the idea grew, I begin to search for the perfect pattern... on the internet, in magazines, and through the many books on my shelf. I wanted it to be quick, but, since I knew I wanted it to be solid white, I didn't want it to be too plain. As the idea became more persistent, I even tried suggesting to my
wonderful designer friend
that what she really needed to come up with was a So-Cal friendly, summer cardigan. (Yes, she's just a wee bit busy right now, but I'm still secretly hoping for that option.)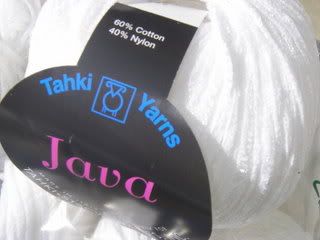 Meanwhile, I began considering some basic patterns I had in hand, and turned my attention to yarn. Thicker yarn would be quicker... but not good for summer (nor pleasurable to knit in my opinion). I figured I wanted a light worsted or DK weight... but I wanted it to be cheap... and don't forget quick. So I began checking constantly online for not only patterns, but yarn sales... e-bay, knitty boards, knitter review boards... everywhere. I found one yarn that I thought might be interesting, but, when it arrived, it turned out to be not quite what I was looking for. (BTW - You can get a great deal on some white yarn at my
Stashout
right now.) It was a this point that my hankering, my desire, began to dominate my thoughts.
Then last night... there was a flicker of possibility. Cosmic-Pluto's
Lucy in the Sky
cardigan. The more I considered it, the more I liked it. Knit in one piece, lots of yarn options, pattern could be immediately downloaded. Yeah... this would work. I was thinking that I would like to try either Tahki Cotton Classic or Brown Sheep Cotton Fleece. But oh no... which one?
Okay, I'll get one of each and swatch (did I spell that right?). There's only one LYS around here that carries both yarns (and happens to be open on Sunday) about 20 miles away.
I should go...
No... I should think about this some more... especially knowing that I'm quite likely to change my mind in the next 24 hours
.
No, really, I'll just run up there real quick... I feel like getting out of the house anyway.
Tammy, the cupboards are bare, if you're going anywhere, it's to the grocery store.
Oh, what will I do today if I can't cast-on for a cardigan?
Yeah right... don't even try that one.
But suddenly the most important thing in the world... the only thing in the world that I wanted to do... was to cast on for Lucy NOW! (I know you know what I mean.)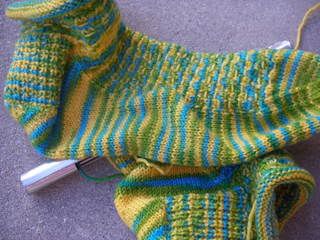 Clearly, I needed to stop and think this through with some patience and sensible consideration... unfortunately, both of which are in very short supply within my conscious mind. Actually I'm really quite sensible... it's just that my darn impulsivity usually wins any duels with my sensible side.
Finally... I'll just call and see if they even have Cotton Fleece in white. Yes!! They do! But they're closing in 15 minutes. "Are you sure?"
"Uh, yes... and we're closed tomorrow."
So I guess it's just me and the Brothers Karamozov for the next couple of days. Oh, I suppose I could finish my
Crusoe
socks... or one of the other wips I have going. Yeah... I suppose... but it won't be the same.
BTW - I'm still open to any cardigan options you might know of... or any bundles of white yarn you might want to depart with. :)