Busy! We have had one busy weekend! And the stories I could tell, the stories I've been dying to tell... well... I can't, not here. We spent the weekend with many family and new friends gathered in from all over the country for my (much) younger brother's wedding. Let's just say that when your weekend starts with your mom offering to pay for you to get a "good" haircut and your dad advises that you really should be wearing perfume and drags you to the back of the house to put on some of your mother's perfume... well, things can go anywhere from there! And they did.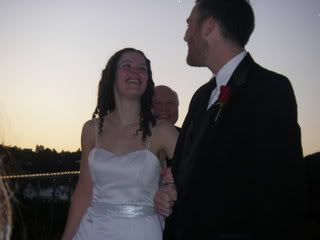 However, it was a lovely sunset ceremony and my brother and his beautiful bride looked so sweet and in love. And my middle boy looked amazing in the tux he wore as ring-bearer (don't you think)!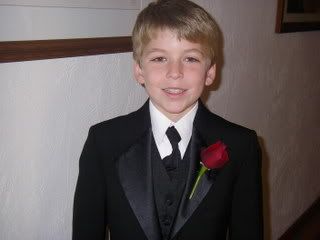 The reception included a very fascinating, eclectic group of people. I'm really remiss that I didn't take more pictures but that would have involved setting down my glass of champagne and, well, that was not an option.
BTW - Did I mention the stunning young gal at the wedding who could have easily convinced anyone (including me) that her simple home-made kelly green scarf must have come from a boutique on Rodeo Drive? Did I mention I was wearing Ella when my hair and perfume (or lack thereof) were being discussed the night before? Nobody said anything about Ella. Hmph.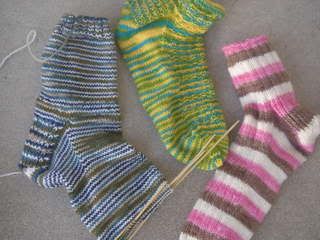 Well it was an interesting weekend to say the least. Not much knitting so I thought I'd share this picture of my "Lonely Onlies" (I'm thinking I'd better give that 2 socks on 2 circulars thing another try) and a picture of my Christmas gift from
Julie
who clearly knows me all too well. I'm going to make some of those cute little wash clothes with the chenille.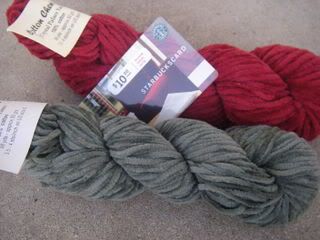 We were supposed to start school today but I think we're all pretty wiped out. And I'm sure at least a couple of my kids will be "hungover" from all the cokes and Red Bulls they snuck during the weekend. I think I'll just go make good use of that Starbucks card right now... then shoot for some laundry and math.
BTW: The socks pictured from left to right are Lorna's Laces Shepherd Sock in Seaside, then Daffodil, and Vesper Neopolitan.