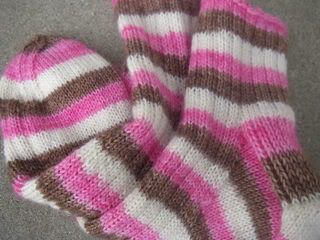 Some serious sock knitting
(and finishing)
going on here...
Vesper Socks in Neapolitan
K3 P1 Rib, Size 0 (gulp) needles
I knit the second one in 4 days (a record for me) then started this today...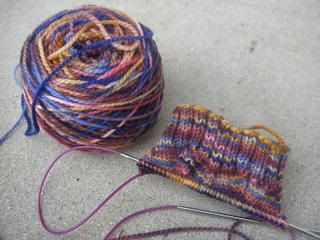 Claudia's Hand Painted Yarn
(I love the rich colors!)
I'm really liking this method as I get the hang of it. Nice even stitches, no gaps, long smooth rows... and the Knit Picks needles are so pointy, slick and flexible.
It was certainly awkward at first but once I got the hang of it, the needle switch at the end of a row is not much more effort than moving between dpns.
I think I'll give 2 on 2 circulars another shot on my next pair. I liked this method a lot... I just wish you could get color coded needles to make keeping track of the dangling ends easier.
But for now, several days of itty, bitty needle knitting, has left my hands crying for mercy so the Jaywalkers will have to wait a bit for more attention.
That's okay... tonight is 24 and Prison Break which means a couple of roundabout hours on Wicked.