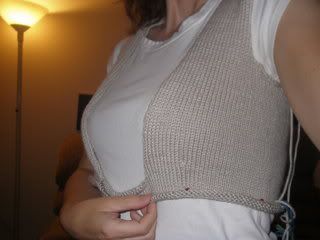 After being set aside for the last several weeks to focus on Christmas gifts and some smaller projects, Sahara sat glaring at me from my knitting basket today as I tried to finish up a couple of socks (not matching ones mind you... no, 2 separate lonely socks - as part of my first goal in January which is to finish up some actual PAIRS! But I digress.) I have to admit that my thoughts of Sahara were not good as I sat here.
I anxiously awaited the release of the pattern (which I'm still very much in love with) but in a rather overly enthusiastic, impulsive move I spent way too much money on this exquisite RYC Silk Wool DK in an especially stain attractive shade of light beige. Why? Because I wanted to start it NOW (which was then) and I selectively chose what was available that fit the gauge (almost) at the LYS where I had a coupon. (I know this doesn't sound like me... rash, impulsive, extravagant... but go figure.)
So today I'm thinking a bit more rationally (you know 2 whole days into my yarn diet thingy), and I begin to think about the impractical color choice, the cost of the yarn, and wearing long sleeves when it just won't stay below 60 degrees. That and the fact that I rarely (read never) go anywhere that would provide an opportunity to wear such a classy & elegant sweater (aside from it's intended destinations of a Christmas party last month and my step-brother's wedding this weekend).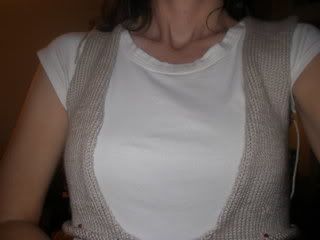 But then... but then, just a few moments ago, I decided to pull it out (debating in the back of my mind how much of the yarn I had used and how much I could return for a more practical selection) and knit just a couple of stitches before going to bed. And the yarn... oh the yarn, and how it glides across the needles... Hmph I thought, I bet I blew my gauge adjustments and it was never going to fit... So I thread it onto some scrap yarn and tried it on. And look... it fits! It really fits! (Of course, I have to add there is some stockinette curling going on and a wide lacy border to add in so it will be quite a bit more modest than this.)
Anyway, my enthusiasm is renewed. I still have no idea where I'll get to wear it, but it's going to be great when it's done. Of course, the wedding is still 3 full days away... and it's an evening wedding so that's another 1/2 day... hmmmmm.