I recently came down with the strangest of ailments that can only be called "finishitis". While I struggle chronically with knitter's "startitis", this was a new one for me, and I was on a roll. Upon completion of Sahara, I was struck hard with a great sense of determination and, of all things, focus. I finished my sister's birthday scarf... a lovely pattern from the Debbie Bliss Pure Silk book knit up with 2 hanks of the required DB Pure Silk. The yarn was a luxury to knit with and the pattern was engaging so it was a pretty quick knit. I even finished it in time for her birthday... although I have yet to deliver it. (But considering I haven't mailed my dad's Christmas present yet, this is to be expected.)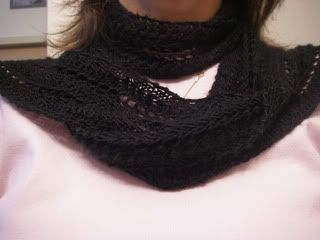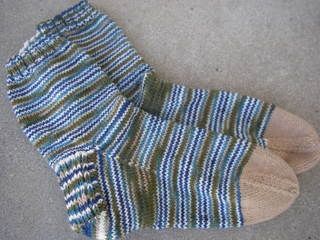 Then I finally got around to finishing up the second Lorna's Laces Seaside sock. It may look like I ran out of yarn for the toes, but it was completely a design decision... based on my decision to not open and wind the second hank of yarn just to complete the second toe. That's all.
Next I started in on the 2nd Vesper sock. I'm telling you, there was a spell there where I truly thought I was going to finish up all my UFOs and cast on something new with complete freedom! Can you imagine? I actually met somebody once who only knit one thing at a time but I never for a minute thought I might be the strange one in that conversation.
Anyway, just when I was on a roll, just when I thought my finishitis might be terminal, I stumbled upon a cure.
This
. Yep, this and the fact that I had leftover yarn from Sahara to return to the LYS. And since, yarn can only be exchanged and never actually returned, I grabbed this...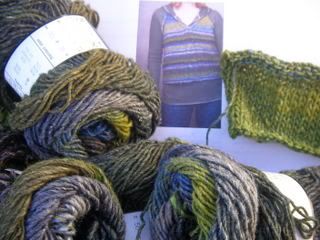 An
(almost)
even exchange. And, yes, that is a swatch you see... a S W A T C H!
Sadly though, So Cal is a fickle place and I guess I should've known that grabbing more wool immediately after finishing a wool sweater was sure to be seen as a dare to the gray hazy clouds and weeks of record-breaking lows that we, well at least I, have enjoyed. Alas, the clouds parted, the sun streamed through, and our temperature shot up into 70s. Yes, friends, it is my fault.
And, btw, I know what you people in other states think and say about us "crazy, loony, sun-baked" Californians (I have plenty of relatives out there who keep me in the loop... then there's the whole Governator thing...) and I'll tell you what... I agree with you. I was at Park Day today where, besides learning that I can't talk and turn a heel at the same time, I listened to women around me enthuse about the wonderful weather and complain about the bitter cold that tormented them for, well, hardly more than days. It's 75 degrees in January! I came home and put on shorts! In January! This is not okay... it's not normal, nor reasonable, nor acceptable! So, it's really not about politics, religion, wardrobe, or hairstyles... it's about weather... and people who really think it is wonderful to spend 365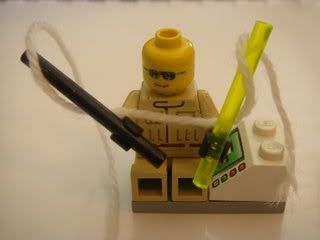 days a year in the same cloudless, blue-sky, moderate weather! That, I'm sure, is the root of the so-called "looniness".
(Don't get me wrong, it's a beautiful place to live... and maybe it's just because I'm not a native Californian, but I think variety is a good thing... even in weather, not just in hair color.)*
Oh, sorry... I was talking about knitting right? Yeah about that... my son made a lego model of me. That would be my computer off to the side and hmmm... what do you suppose those could be in my hand? I bet I could take on Darth Vader with those knitting needles!
*ETA: I don't mean to offend anyone but I feel safe expressing my thoughts here as I know that any So Cal, fiber-loving knitter who is likely to read this would surely agree with me. Two weeks per year of wearing handknit sweaters is simply not enough! :)