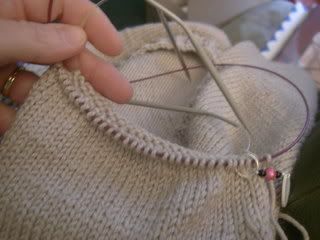 The sleeve...
Maybe I'll try the 2 circulars... nah.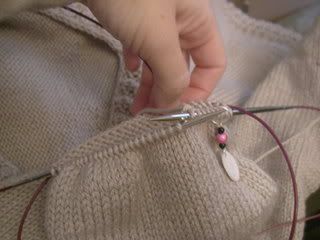 I know... I've always wanted to try the Magic Loop... but I'm just not sure. It seems fairly speedy but a little awkward with the dangling cord and having to stop to pull the needle around all the time.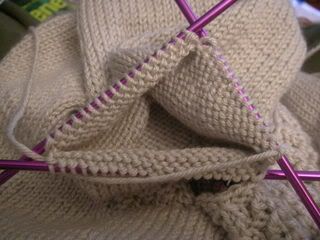 Ah... here we go... dpns.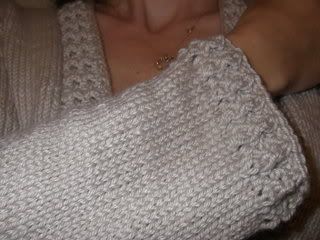 that's too (gulp) short and (here's that word again) too snug.
Sahara and I are developing a real love-hate relationship. I love this sweater! I hate to take the time to get the right gauge, properly measure and try things on as I go. Really Sahara is not to blame at all.
It is really not a difficult knit... REALLY! I would hate to discourage anyone from knitting it just because I've lost either (a) my knitting mojo, (b) my patience, or (c) my mind. The pattern is clever, interesting, well-written and full of helpful advice that I seem doomed to repeatedly ignore (such as the continual advice on sizing and trying it on as you go). I mean, come on now, really... I could've tried the sleeve on easily at any time. I even knew, knew, knew that I should try the sleeve on before I finished. I KNEW IT! Yet I didn't.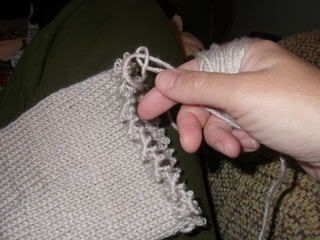 Now I could deal with just redoing the trim, but I really need to back up a bit and remove one of the decreases... which, I admit, I suspected at the time, but ignored that wee voice in my head that constantly presents such common sense advice (and sadly is mostly ignored).
I wish I could blame the pattern... it would certainly make me feel less foolish... but I can't. I knew I had a gauge issue from the start (read I settled for close enough), so my sleeve pick-ups didn't match the pattern (size medium sweater with size x-small sleeves). While clearly this should have warned me of danger like a stampeding bull, for some reason it only barely concerned me... except that I KNEW I should've tried it on. So why didn't I??????????????
Socks and scarves... apparently it's all I'm good for right now. I'm going to go read my new book,
A Deadly Yarn
, because yes, it is.