Size 1 DPNs. That is what I was in search of. I know my weaknesses and would've in no way set foot into a yarn store so soon into my "Knit from your Stash" commitment, if I hadn't lost one of my size 1 dpns that I needed to finish a pair of socks. I even considered using just the 4 which I don't mind except that it was feeling awkward. Really.
But, in the nature of full disclosure, I will confess my teeny, tiny stumble.
1) Magazines... not yarn, totally allowed... no guilt.
2) Sock yarn - technically allowed... I know I said I wouldn't buy any but my LYS rarely has anything exciting in the way of sock yarn so I was not prepared to be tempted in this cruel manner so soon. It is the new Tofutsies from SWTC (that the salesgal took a moment to specifically point out to me as I was not yarn shopping - only needle shopping). Add t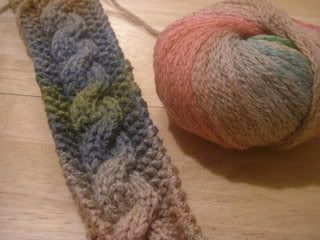 hat to the fact that I was wearing a pink (Old Navy, of course) t-shirt this morning, thinking how I really need some cute pink socks.
3) I know this looks like yarn, but it's a headband. Really it is... or it will be soon. I need a warm headband (as I look terrible in hats). BTW - this yarn was conveniently stashed right below the dpns. (They got me coming and going.)
And the size 1 dpns... they were out. $30 and no dpns. I almost went to another LYS but I caught myself. I'll just knit on with 4... I'm not taking any chances.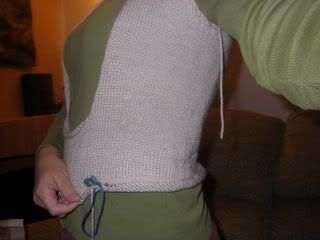 BTW - I would like to add that I was out and about only because I had chosen to take a couple of my boys to the library and bookstore instead of staying home and working like a maniac to get Sahara done for this weekend. I was
trying
to do the right thing... that should count for something. Shouldn't it?