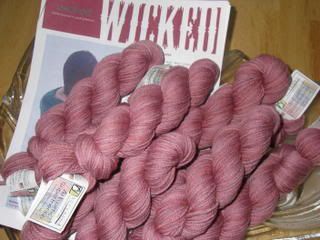 I decided that in order to succeed with Sahara, I must persevere in the best way I know how... cast on for something else! As I lay awake last night pondering the disappearance of my knitting mojo, I realized that all of my favorite knits spent several brief spells in hibernation while they were in progress. A-ha! Remember, I mentioned that Sahara needed just such a rest last week? Yet, while en route to "the drawer", I (against my own better judgement) tried it on once more and decisively determined that it must be finished!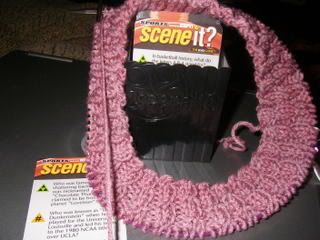 Well once I realized the much needed rest I had deprived Sahara of, I was quick to set about correcting my mistake. Considering that "the sleeve" had not only left me more than a bit blue, but had cost me sleep as well, I knew that I couldn't just settle for a simple quick fix like a scarf. No... this was going to require something much more rejuvenating, something fresh, something exciting! This was going to require a new pattern and, most definitely, a trip to the LYS.
Now, while the new Artyarns Supermerino wasn't technically *in* my stash... I did "purchase" it by returning quite a bit of yarn from my stash that I had picked up for little things, like
hats and gifts that never got knit, as well as some sweater yarn I wasn't using. So really I was very resourceful and the yarn ended up costing me
very
little. Really!
And yeah, I know, I should just remove the stinkin' button from my sidebar. But the guilt (& humiliation) it imposes will eventually make it impossible for me to stumble without dying of shame.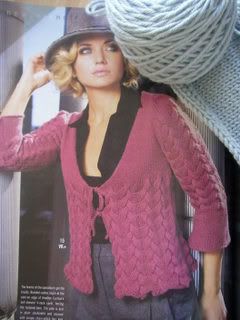 Anyway, the pattern is Zephyr's new
Wicked
sweater... So tonight I cast-on (big contented sigh) and spent some quality time with my boys playing ESPN Sports Scene-It. I was the official card reader. The card-reader gets to knit. I was happy, they were happy... it's all good.
I also found this Cabled Cardigan pattern in the latest Vogue for the Debbie Bliss Cashmerino Aran that actually
is
in my stash. Isn't it pretty? Maybe I'll start it too. Maybe.