I just couldn't leave it alone!! I put it aside but it so wanted to be finished... I so wanted to wear it!! I even purchased a brown skirt from Coldwater Creek during their big year-end sale just for Sahara. And finally, here it is...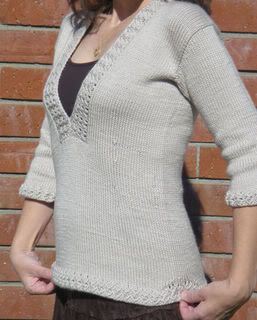 It turned out even better than I'd hoped. The pattern was so easy to work with and, once washed and blocked, the yarn is wonderfully silky soft.

I was truly caught here in an honest attempt to catch my hair in the breeze. Really! However, it was the best picture we got and my 14 yos was clearly unwilling to keep trying. Unfortunately I don't get very clear pictures with my camera when it is turned sideways and I can ne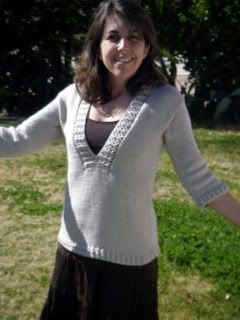 ver tell and always forget until I post the pictures here (although I'm sure the dead grass and weeds in the background do much to make up for that... sigh).
Also, because of our typically mild weather, I chose to do 3/4 length sleeves so I'll be able to get more wear out of it.
RYC Silk Wool - just over 9 balls
(Which means I get to return 3 for store credit - Yay!)
Knit Picks size 6 & 4 circulars
Size - M (mostly... my gauge was off so I went up a size)