Okay, I think it's fair to say at this point that the pretty little yarn button on my sidebar is hardly m
ore than decoration. I mean, I barely notice it anymore and, heck, it doesn't actually
stop
me from buying new yarn. It's not like it's coded with an automatic credit card or paypal blocker that fires up whenever I attempt to make a purchase. And now that I've pulled together all my spare change (unused yarn) and returned all my sweater leftovers for new yarn, I'm feeling a little less, well, comfortable with this whole knit-from-my-stash thing. And you know what? I think the button is actually taunting me, daring me to buy yarn. Yes ma'am, I think it is.
Did you see the new Knitty surprise pattern,
Thermal
? Did you? A sweater for less than $34? I want this in the worst possible way, and lightweight is good for here. Yep, sure is.
(Somebody shouting at me about the insanity of me attempting to knit a whole sweater on size 2.5 needles would be good here.)
As for the sidebar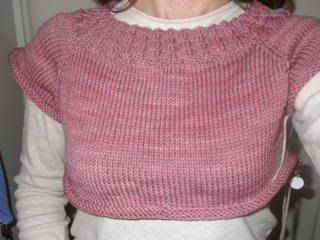 list... it does provide moments of clarity. It's very helpful to be able to glance over all of my options and, on occasion, some common sense, or dose of reality, does seep in when I realize the impossibility of knitting everything I already want to knit... then there's the stuff that I will want to knit (have you seen the
Spring Interweave preview
... the Clementine Shawlette, Cable-Down Raglan, Bonsai Tunic?) But the list... well, it can be changed... or, even, deleted.
I'll admit that it's harder to ignore (and impossible to delete) the sky high stack of bins at the top of my stairs... but it only rarely fills me with a pit of guilt and gluttony anymore. It's really more like a piece of furniture at this point.
And isn't "what's next" part of what knitting is about? I thought it was, but some wise women over at the Knitty board were commenting that since it would take long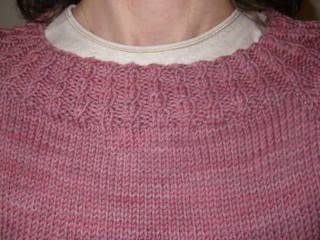 er to knit Thermal, you would actually get more mileage for your money... in other words, for very little money, you would get a lot of knitting. I have a feeling they may be right but I can't quite tweak my instant-gratification brain enough to get there. It's kinda like trying to grasp that whole eternity/beginning of time thing. Kinda.
I really do think it would be nice of me to take some of that
Hand-dyed Alpaca
off of Supercrafty's hands. Wouldn't that be nice? I wonder if it could fit in the drawer next to the Artyarns Handpainted Supermerino that I can't figure our what to do with...
Electric shock... now that might work. I really don't like pain.
PS... Pictured is my progress on Wicked. Love this yarn!!